Home
Main content starts here, tab to start navigating
Baby, It's Cold Outside...
Try Pedro's Famous Brisket Chili (limited availability)
Slide 1 of 4
Order Individually Packaged OR Buffet Style Office CATERING Today.
Catering Orders require 48 hours notice. Call 214-350-2649 for immediate assistance.

Order Catering
Slide 2 of 4
Hungry? Order Online for Takeout or Delivery
Order Online
Slide 3 of 4
Forget Dry January, Let's Get Sauced!!
BUY A RACK OF PORK RIBS, GET ONE FREE
EVERY SATURDAY IN JANUARY
Slide 4 of 4
Welcome to Big Al's
Smokin' the Good Stuff Since 1974
Big Al's Smokehouse BBQ is an authentic family-owned BBQ restaurant and caterer. We proud ourselves on providing our guests with award-winning, hickory smoked meats, house-made sides and desserts in a comfortable, family-friendly environment without breaking the bank.
Our customers include local BBQ fans as well as countless visitors traveling through Love Field. Please check out our history below:
Catering
Corporate & Office Catering
Pick Up, Delivery & Full Service Catering
Individual Packaging & Custom Menus Available
CALL OUR CATERING HOTLINE!
888-92-BBQ2U (888-922-2728)
(Calls will be answered and returned between 8am & 5pm Mon-Sat)
Inquire Now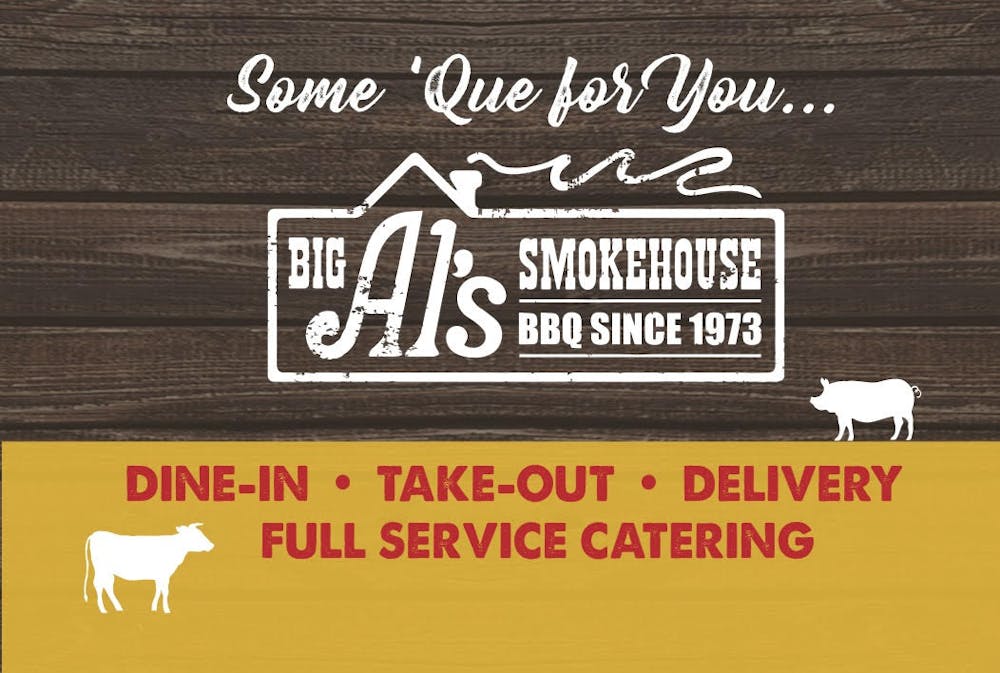 Gift Cards
Give a Big Al's gift card to a friend so they can take you out for good food and drinks!